[vc_row type="standard_section" bg_image="" bg_repeat="stretch" parallax_bg="" bg_color="" section_arrow="" video_bg="" enable_video_color_overlay="" video_overlay_color="" video_webm="" video_mp4="" video_ogv="" video_image="" text_color="dark" custom_text_color="" text_align="left" top_padding="20″ bottom_padding="20″ class="" row_id=""][vc_column animation="none" bg_color="" bg_image="" column_padding="no-padding" column_center="" text_color="dark" custom_text_color="" text_align="left" width="1/1″][minti_headline type="h1″ font="font-special" size="fontsize-xxxl" color="#d0b068″ weight="fontweight-700″ lineheight="lh-inherit" transform="transform-uppercase" align="align-left" margin="0 0 0 0″]Kari Payton
[/minti_headline][minti_divider style="1″ margin="20px 0 20px 0″ icon=""][/vc_column][/vc_row][vc_row type="standard_section" bg_repeat="stretch" parallax_bg="" section_arrow="" video_bg="" enable_video_color_overlay="" text_color="dark" text_align="left" bottom_padding="40″][vc_column animation="none" bg_color="" bg_image="" column_padding="no-padding" column_center="" text_color="dark" custom_text_color="" text_align="left" width="2/3″][vc_column_text]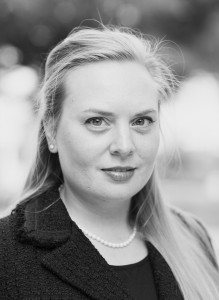 Born a dreamer, and for as far back as Kari can remember, her eye has been drawn to sparkles and beautiful things.  She then realized her love of planning and travel around the age of 12 when she started planning family vacations and all of the adventures on them.  Through the intricacies of the details of these plans, Kari cultivated a desire to be able to create and execute a finely detailed plan, and led her to the field of hospitality.
Most of her professional experience has been in hospitality – working as the lead hostess at a fine dining establishment through college, to managing a branch of a large florist, to senior event planner, to her current position as a hotel general manager.  Through these experiences, she has cultivated many skills in customer service and leadership, and a high expectation of excellence.
More recently, Kari gained experience in group travel when planning an academic tour of Washington D.C. in January 2013 for 40 guests.  This expedition was extremely memorable and will shape her travel planning for years to come.
Because of her love of sparkles and beauty, she is naturally drawn to formal occasions, as well as the application of etiquette.  Kari has had the fortune to have planned a number of weddings, receptions, banquets and other formal affairs.
[/vc_column_text][/vc_column][vc_column animation="none" bg_color="" bg_image="" column_padding="no-padding" column_center="" text_color="dark" custom_text_color="" text_align="left" width="1/3″][minti_headline type="h1″ font="font-special" size="fontsize-m" weight="fontweight-700″ lineheight="lh-inherit" transform="transform-uppercase" align="align-left" margin="0 0 15px 0″]Kari's Posts
[/minti_headline][minti_bloglist posts="4″ categories="kpayton" layout="vertical" style="date"][minti_headline type="h1″ font="font-special" size="fontsize-m" weight="fontweight-700″ lineheight="lh-inherit" transform="transform-uppercase" align="align-left" margin="15px 0 15px 0″]Connect with Kari
[/minti_headline][vc_column_text]
[minti_social icon="fa-twitter" url="https://www.twitter.com/kgpayton" target="_blank"][minti_social icon="fa-linkedin" url="https://www.linkedin.com/pub/kari-glafenhein-payton/14/451/4b" target="_blank"][minti_social icon="fa-pinterest" url="https://www.pinterest.com/kgpayton/" target="_blank"][minti_social icon="fa-envelope-o" url="mailto:kari@hospitalityproject.org" target="_self"][minti_clear]
[/vc_column_text][/vc_column][/vc_row]